Top 5 Reasons Why AP Tests Will Forever Be the Bane of Students' Existences
Hang on for a minute...we're trying to find some more stories you might like.
That's right, ladies and gentlemen, we've done it again. We've survived another year of AP testing. Possibly one of the most stressful things during the school year, right up there with finals and having to get on your teachers' good side before grades go in. And if you have yet to take one, here are the top 5 reasons why AP tests will forever be the bane of students' existences.
1. The Straight-Up Concept
There you are, just coming back from Spring Break, feeling refreshed, possibly with a new tan and then you realize: AP testing is in a next month. Sure, it's still a few weeks away, but the actual concept of it? Having to sit in a room and test for nearly three hours straight? No thank you. But you paid almost one hundred dollars to just to take it, so you'll be darned if you let it go to waste.
2. The Meltdown
And so you get down to work, crack open that textbook, lay all your notes out in front of you, the whole nine yards. Looking over everything, it feels like you're reading a different language – and for you people that are taking an AP World Language, se siente como si estás leyendo en un lenguaje diferente – which will lead to the Iconic and Inevitable Meltdown from realizing you don't remember jack.
3. The Overwhelming Desire to Succeed
Face it, there's no reason why you're here. You want to major in engineering in college, why on Earth would you need to know how the President gets elected in Russia? Be honest, you just took the class because you needed the credit to graduate. And yet, you want that 5 in Comparative Government. Even if it's in a class that you know 100% you will not spare a second glance towards in college, you know you want that 5. And so you dedicate the next few days of your life to studying the Federal Reserve's open-market operations, you future English major, you.
4. The Actual Testing
Less than an hour for 50+ multiple choice questions and almost two hours for a handful of extended response questions. Guess it's time to show off your skills of deductive reasoning and yarn-spinning.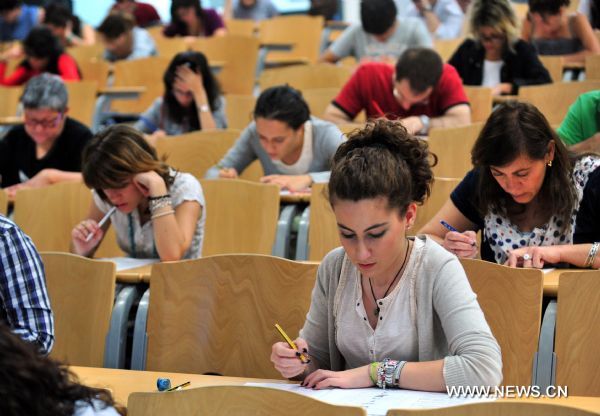 5. The Wait
The moment the proctor dismisses you from testing, you're out the door, but not before they say something that makes your heart sink, if only a little bit: "Your scores will be available in July." July? You mean, you have to wait another two months to find out how you did? After having to sit through the extra time you had left during the actual testing and now this, you've learned one thing: the College Board sure does love making you play the waiting game. Oh well, at least you survived this year.
Look, AP classes are great (for the most part), teachers are great, but those tests? Oh boy.