The Missing Link?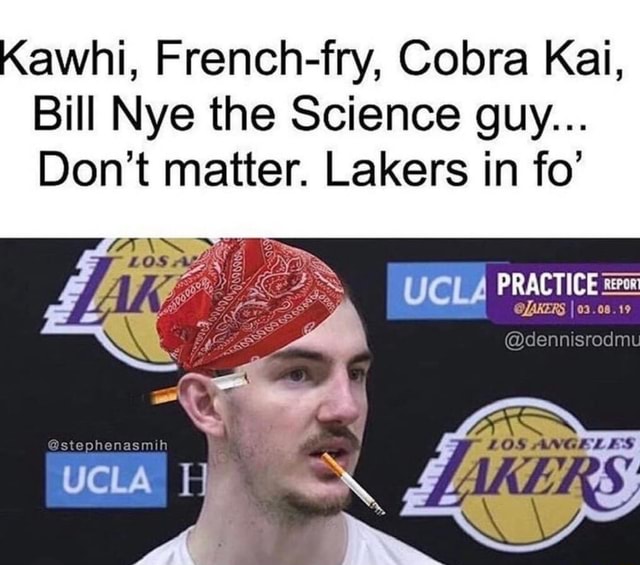 The Los Angeles Lakers called a meeting last night to announce their newest recruit. After losing one of their star players, Anthony Davis, the team went into an unfortunate slump. To fill the hole left by Davis, the team recruited who they believe is their missing link. Bill Nye The Science Guy will be making his debut in the NBA as a Los Angeles Laker against the Golden State Warriors, Monday night. Bill Nye The Science Guy is known for his intellect and knowledge about science but he also as a secret love for basketball. He has  his love for science with basketball. Bill stands at 6 feet, weighing just under 200 pounds at the age of 65. He has figured out the physics behind the perfect jump shot that never misses. He also is able to study defenders and use science to predict their next move. "With Bill Nye's skill set and knowledge I expect him to average 123 ppg, 17 assists, and about 5 rebounds on the season as the starting point guard for the Lakers. He has a few days of practice before the Warriors game, I think he can drop 40 his first game against Curry." says John Kindermann, NBA analyst and head coach for the Georgia Kingers.
The Lakers were fading as the favorites to win the championship this season but with their new starting point guard, Bill Nye, the Lakers are looking to be the champs for years to come. "I love this move for the Lakers. I believe LeBron needs help and with Davis gone the next best thing is Bill. Shoot! I believe Bill can be better than Davis and even better than Lebron. You know what? I'm going to say it! Bill Nye The Science Guy is gonna be better than Michael Jordan." says Max Kellerman, ESPN sports commentator. Bill has signed a 12 year contract worth over 1.2 billion dollars, becoming the biggest contract in sports history. 
Not everyone thinks Bill Nye the Science guy is a good fit for Los Angeles. "To pay a man that much money before he even touches the court is preposterous. This is the first time this man is playing basketball professionally and you want to pay him over a billion dollars? I must be the only person left with reason because this contract is blasphemous," says Stephen A. Smith, NBA analyst. Some people are skeptical about Bill Nye and his ability to play basketball at a high level. While others believe Bill Nye can be the next "GOAT" and will lead the Lakers to years of success. Which side are you on? Do you believe Bill Nye The Science Guy will be a bust or a success? Let us know in the comments, The Beacon would love to hear from you!